1519-1522
FIRST WorldTour
relived in
2019-2022/2026
by ÁLVARO DE MARICHALAR
Fifth-Centennial of the world's First Circumnavigation
Fifth-Centennial of the World's First Circumnavigation
Fifth-Centennial of the World's First Circumnavigation
Fifth-Centennial of the World's First Circumnavigation
FIRST WorldTour INTERVIEW
Content from Youtube can't be displayed due to your current cookie settings. To show this content, please click "Consent & Show" to confirm that necessary data will be transferred to Youtube to enable this service. Further information can be found in our Privacy Policy. Changed your mind? You can revoke your consent at any time via your cookie settings.
Consent & Show
Check the interview Álvaro gave to amazing journalist Dawn Dawson on March 25th 2022 in Pensacola, Florida.
Dawn gave Álvaro the opportunity to share his passion for the sea talking about his current maritime expedition around the World on-board his tiny 11ft vessel seadoo named NUMANCIA, solo sailing spreading hope, awareness, values, principles and Love.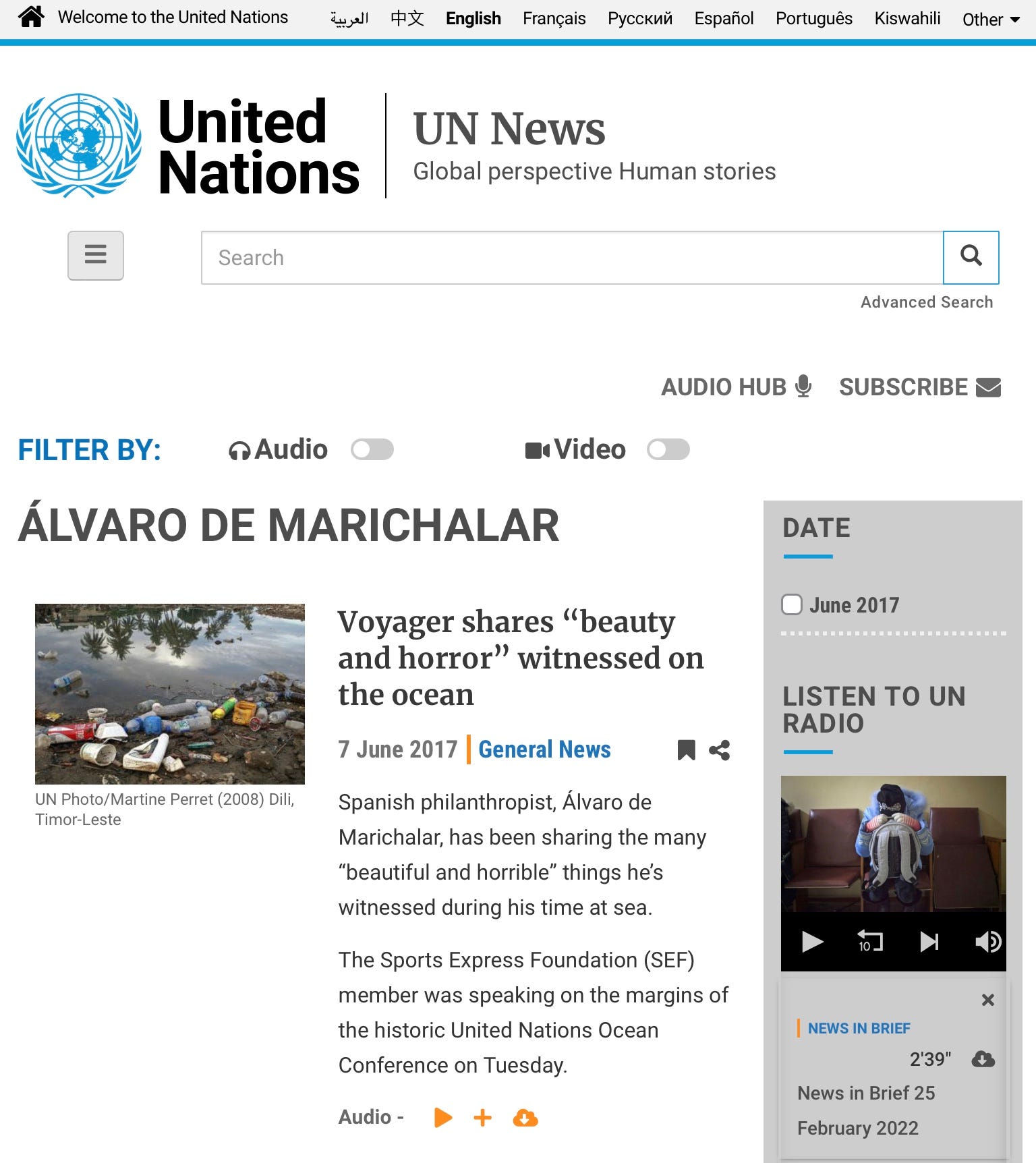 STOP PLASTIC POLLUTION
Álvaro is fighting against plastic pollution since 1982 and currently collaborates with several institutions:

Álvaro talked several times in the United Nations about the terrible consequences of the plastic pollution in the oceans, seas, lakes and rivers: Read more.
Álvaro's participation at the conference:
Expeditions and Plastic Awareness
(Ocean Recovery Alliance
& EARTH DAY, TX)
Content from Youtube can't be displayed due to your current cookie settings. To show this content, please click "Consent & Show" to confirm that necessary data will be transferred to Youtube to enable this service. Further information can be found in our Privacy Policy. Changed your mind? You can revoke your consent at any time via your cookie settings.
Consent & Show
The world's First Circumnavigation
The world was first circumnavigated by the Magellan-Elcano Expedition, starting from Seville, Spain in 1519 and completed three years later in 1522.
Fifth-Centennial of the world's First Circumnavigation
500 years later, in 2019 Álvaro de Marichalar started his Solo circumnavigation from the same place and on the same date Magellan and Elcano did in 1519.
INSTITUTIONS Backing up the Expedition
Yacht Club Monaco
Real Liga Naval Española
Russian Geographical Society
Explorers Club New York
Real Federación Española de Motonáutica
Real Academia de la Mar
Main Goals of the Expedition
One of the main goals is to honor Juan Sebastián Elcano, Ferdinand Magellan, HM King Charles of Spain and all the brave European sailors who participated in the First Circumnavigation for their courage, strength and determination.
Content from Youtube can't be displayed due to your current cookie settings. To show this content, please click "Consent & Show" to confirm that necessary data will be transferred to Youtube to enable this service. Further information can be found in our Privacy Policy. Changed your mind? You can revoke your consent at any time via your cookie settings.
Consent & Show
2018: Álvaro shares his endeavours at sea with the Marines in Pensacola where he also spoke about his ancestor, Tristán de Luna, founder of the first European settlement in the USA in 1559: Pensacola, Florida.
Álvaro is offering motivational lectures based on his 40 years navigation experience.
Álvaro's lecture at Houston Yacht Club
SPONSORS AND COLLABORATORS
Guided by his passion and spirit of exploration, Álvaro follows Magellan and Elcano's watermark, Solo sailing around the globe aboard his tiny 3m long vessel NUMANCIA.
FIRST WorldTour 2019-2022/24

Circumnavigation Aboard the Smallest Vessel Ever
ENDEAVOURS ACCOMPLISHED IN THE PAST